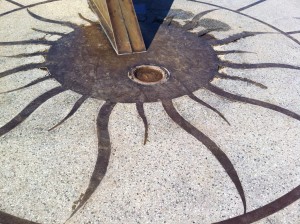 2017: Nick Wingfield of The New York Times has written a story about Dr. Laskar's case being dismissed. Read the story here.
2015: There is now a petition on change.org: Please read, sign and SHARE this petition.
2015: Nick Wingfield of The New York Times has published a news piece about Dr. Laskar's indictment. Read the story here.
2015: Jeff Chirico of CBS Atlanta has published a news piece on Dr. Joy Laskar, following his indictment on two counts of racketeering. watch the story here. Note: the last bad "act" is dated June 24, 2011 — five weeks after Dr. Laskar was fired and nine months after he was barred from his offices and labs and threatened with arrest for trespassing.
Jeff Chirico of CBS Atlanta has published a news piece on Chris Evans, the former Georgia Tech employee who was suspended and arrested along side Dr. Laskar in 2010. Watch the story.
Two and half years years ago November, Nick Wingfield of The New York Times, wrote an article about Dr. Laskar and his ongoing fight with GT since May 17, 2010. Read the story.
CBS Atlanta has also reported on several relevant stories in past couple of years, involving former or current employees of the University System of Georgia (USG) and its governing Board of Regents (BOR). Watch the five stories here: (1) UGA Professor Sues Attorney General and others for Racketeering. (2) Student Investigation into USG like 'Watergate' (3) Former Employee says BOR hiding records of mismanagement (4) State worker fired for reporting Regent's ethics violation (5) Regents Admit They Don't Read Employee Appeals
Greg Land of The Fulton County Daily Report, a legal periodical that is published out of Atlanta, wrote two articles that discussed two aspects of the ongoing case, the first appeared in January 2011 and the second (read below) in April 2011, after Joy had prevailed with the backpay issue.
Update:Two and a half years have passed since the second article was published. The charges against Chris Evans were dropped in January 2012. The case against Joy and the other co-founder of Sayana remains open.
Monday, April 25, 2011
Georgia Tech prof reaches settlement with regents
Agreement will pay $181K in salary to professor who says he was
unfairly suspended over allegations he misused university funds
By Greg Land, Staff Reporter
(Zachary D. Porter/Daily Report)
Craig Frankel: Settlement vindicates Joy Laskar.
Tools:
Print Text Size
Email Reprints
A Georgia Tech electronics professor, who sued the Board of Regents
after being suspended and arrested in connection with allegations that
he conspired to funnel about $2 million in school funds to a company
he co-owned, has reached a settlement with the state that will pay him
all of his back pay, benefits and legal fees, and may return him to
his duties as a tenured professor.
The settlement entered on April 11 will pay Joy Laskar $181,161 in
back salary, $16,739 in matching contributions to his retirement
account, and $6,887 in prejudgment interest; his attorneys will
receive $53,451 in fees and expenses.
Attorney Craig M. Frankel said the settlement represents everything
Laskar had sought, and essentially justified his client's position
that he had been unfairly suspended. However, the attorney general's
office said a criminal investigation of Laskar and two colleagues is
ongoing.
"I think their decision to pay us 100 cents on the dollar for our
damages is an acknowledgment of our position that they violated their
own policies and the rules of their faculty handbook, and their
decision to pay our attorney fees at 100 cents on the dollar is an
acknowledgment that they acted in bad faith," said Frankel. The
settlement has already been paid, he said.
Laskar, founder and former director of the Georgia Electronic Design
Center at the school, was barred from campus on May 17, 2010, when
Georgia Tech President G. P. "Bud" Peterson placed him on unpaid
suspension pending an investigation into "evidence of malfeasance"
allegedly uncovered by the school's Department of Internal Auditing.
The same day, the Georgia Bureau of Investigation issued search
warrants for nine locations on the Georgia Tech campus and two
residences. In September, Laskar and two other Tech employees were
arrested and charged with racketeering in connection with diverting
funds to Sayana Wireless. The company's co-owners include Laskar and
Georgia Tech research engineer Stephane Pinel, who also was arrested,
along with office administrator Chris Evans.
In December, Laskar sued the Board of Regents, arguing that Tech had
violated its own policies by suspending him without pay before he had
been afforded a dismissal hearing, and by publicizing his suspension
and the allegations of wrongdoing before the conclusion of the
termination proceedings.
According to the terms of the settlement, Laskar will continue to draw
his customary salary until the conclusions of a "duly appointed
faculty committee" are presented to Peterson, who will decide if he
should be terminated.
Lauren Kane, spokeswoman for the office of Attorney General Sam Olens,
which represented the Board of Regents, said the settlement "speaks
for itself," and declined further comment on the matter.
Kane said that because the criminal allegations against all three
remain under investigation, she could not discuss them.
Laskar, 47, joined the Georgia Tech faculty in 1995 and founded the
Georgia Electronic Design Center in 2003. The center focuses on
research into communications technology and has partnered with dozens
of corporate entities including IBM Corp., Samsung, Intel Corp.,
Nortel and Raytheon Co., among others.
Laskar, an Indian-born U.S. citizen, has more than 50 electronic
patents awarded or pending, according to his complaint, and since 2007
has held the Schlumberger Chair in Microelectronics at the School of
Electrical and Computer Engineering.
According to Frankel, Laskar was responsible for generating more than
$200 million for Georgia Tech in research funding, grants and venture
capital. One of many companies growing out of the center's VentureLab
startup generator was Sayana Wireless, a company specializing in the
manufacture of high-efficiency computer chips, launched by Laskar and
Pinel but which is partly owned by Georgia Tech.
Last May, according to the complaint, as preparations were under way
for a private offering of Sayana stock, Tech officials called in the
GBI and charged that the school had been improperly billed for nearly
$2 million in computer chips.
Laskar, Pinel and Evans were arrested and charged with violating
Georgia's Racketeer Influenced and Corrupt Organizations statute, but
have yet to be indicted.
"I've seen the evidence Georgia Tech has; I do not believe they have
any evidence that Dr. Laskar did what they said he did," said Frankel.
The school alleged that it paid nearly $1.9 million for chips used by
other entities, said Frankel, "but our investigation showed Georgia
Tech received chips worth $1.4 million that were used exclusively by
Georgia Tech students and researchers. Why is it wrong for Georgia
Tech to buy chips for its own faculty and students? This is standard
and accepted procedure."
Laskar's attorney for the still-pending criminal charges, Gillen,
Withers & Lake partner Craig A. Gillen, said there haven't been any
new developments in the case.
"Hopefully," said Gillen, "after all the material is thoroughly
reviewed by knowledgeable individuals, we can sit down and discuss the
matter with the attorney general's office. I'm confident that they'll
determine—as we have—that he is not responsible for any criminal
activity, nor was anyone related to Sayana, and that no crime has occurred."
Pinel's attorney, Chilivis, Cochran, Larkins & Bever partner Anthony
L. Cochran, said that, in accordance with university rules, he was
barred from discussing his client's case. Pinel has not filed suit
against the state.
"The Georgia Tech Faculty Handbook specifically provides that these
matters are supposed to be kept strictly confidential," said Cochran.
"For that reason, we have no comment."
"We're just waiting to see when and if the attorney general's going to
present it to a grand jury," said Evans' attorney, Robert G. Rubin of
Decatur's Peters, Rubin & Sheffield. "We're hoping to meet with him to
discuss it before he does."
Evans, whose claim for unemployment benefits was denied by a hearing
officer, appealed that decision; last month, Fulton County Superior
Court Judge Michael D. Johnson ordered a rehearing on his
claim.
Laskar's settlement agreement stipulates that he will be reinstated
and provided "the full array" of accompanying benefits, unless and
until Peterson—after receiving the recommendation of the faculty
committee—decides to terminate him.
As to when that decision might be forthcoming, "the simple answer is
that we don't know," said Frankel.
Frankel said Laskar has spent the months since his suspension "mostly
trying to defend his reputation. He wants the opportunity to clear his
name."
The case is Laskar v. Board of Regents, No. 2010CV194600.
Other News:
Dr. Laskar speaks about the upcoming 2013 IMS meeting in Seattle, in a short video.
Dr. Laskar appeared in a televised program with Walt Mossberg of The Wall Street Journal in November 2008, on the MIT Enterprise Forum of Atlanta. He spoke about Sayana Wireless and the company's innovative technology. A number of news organizations specializing in science and technology covered the event, including TechJournal, who published this article shortly after the program aired.
During Labor Day weekend 2007, news of Sayana's capabilities spread as an article about Dr. Laskar's innovative technology was published and reprinted in many newspapers, including The Los Angeles Times, The Washington Post and USA Today.