Update: Judge Robert McBurney dismissed the case in its entirety October 2016.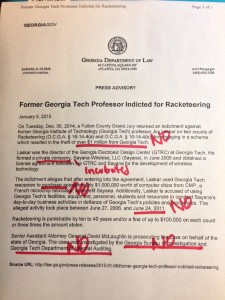 Reading between the lines…….
by Devi S. Laskar
(this essay was originally published in Medium) (JAN 2015)
The statement released by the Attorney General's Office Monday afternoon is largely a work of fiction.
Almost five years after the University used the local media and the state police to first herald unspecified accusations of "malfeasance," the theme of racketeering remains the same – though the story continues to wax and wane, and the dollar amounts change at every turn. At first Dr. Laskar was thought to have stolen about $600,000 and then the number ballooned to nearly $2M by the time he was arrested in September 2010. Six months later at his tenure revocation hearing, the number dwindled to $50,000. All initial charges were refuted at the university hearing, and the ECE department head (now the dean of the college of engineering) confirmed under oath that Dr. Laskar and Sayana Wireless did not break any known policies or procedures. From 2011 until the present charge of more than $1M, there was no mention of money or in-kind goods or services being stolen at all.
The people "investigating" the case did in fact take their suppositions and their personal grievances against Dr. Laskar to the Internal Revenue Service prior to May 2010. Four and a half years later, the IRS exonerated Dr. Laskar. University officials also filed insurance claims in the millions after Dr. Laskar's suspension and subsequent arrest, and these claims were denied.
To be sure, Dr. Laskar was the director of the Georgia Electronic Design Center (GEDC) at Georgia Tech. He and his post-doctoral student, in 2006, did form Sayana Wireless. Yet GT does not want to admit that Sayana was a university-incubated company, trumpeted by the University for its achievements and even placed in the national spotlight at the University's behest. Georgia Tech also held a minority ownership position and stood to gain millions of dollars when the company was to be sold, ironically, on the day of the raids – May 17, 2010.
Yes, Sayana Wireless and GTRC enjoy a license agreement. As a University spinout and a member of the GEDC, Sayana followed all known guidelines and policies, paid licensing fees and had access to the University's facilities, equipment and other resources. That was standard practice, and all University spinouts and GEDC members enjoyed the same access and benefits.
A week before the statute of limitations was to run out, Dr. Laskar was indicted on two counts of racketeering using a subset of the charges that were cited in securing his arrest warrant in 2010. The final "bad act" Dr. Laskar is alleged to have committed, on June 24, 2011, is new. And laughable – it alleges that he committed a crime five weeks after GT fired him, and nine months after the university barred him from his offices and labs and threatened to have him arrested for trespassing.
Whatever investigation was carried out by the GT internal auditors initially was never verified by anyone else or questioned. Open records searches have yielded these results: The original auditor who found no wrongdoing was replaced and this narrative of stealing and misappropriation was put into place by the same people to whom Dr. Laskar would go to appeal his wrongful suspension, his wrongful termination.
The real question citizens should be asking is: How can this sort of witch-hunt go on unchecked? These are taxpayer dollars being burned to ruin reputations and alter lives.
There has been a presumption of guilt from the very beginning, as if by superbly doing the jobs he was being paid to do – teaching, research, fundraising, and entrepreneurship – Dr. Laskar has committed a crime. Innuendo and office gossip do not make proof. The truth of this matter will one day come out, and it is my fervent hope that these circumstances will not visit another innocent man or his family again.
FLIGHTPATHS: HOMESICK
April 15, 2015
by Devi S. Laskar
(Published in Papercuts Magazine)
'Nostalgia is a dangerous trap that bends the shape of memory.' And yet it is this trap that constructs the meaning of home.
In this series, titled Flight Paths, three women writers of South Asian origin invoke 'home' as the immigrant experience, sharing the real and metaphorical journeys they have made, in the shift from Asia to America.
Devi Laskar faces disruption in her quest for the yellow brick road in Homesick. In Je me Souviens, a road trip to Montreal urges Shahbano Bilgrami to remember – rather, to never forget. Even as Himali Kapil realizes that the true meaning of being uprooted is reflected in a new-born baby's eyes, in a cup of ginger cardamom chai, in Homecoming.
"There's no place like home."
— Judy Garland as Dorothy Gale of Kansas, from the film The Wizard of Oz.
"You can't go back home to your family, back home to your childhood, back home to the old forms and systems of things which once seemed everlasting but which are changing all the time."
— Thomas Wolfe, from You Can't Go Home Again.
Tongue firmly in cheek, I was going to write something that referenced my favorite childhood film, The Wizard of Oz, in which Dorothy bravely embarked on a quest through poppy fields and strange lands, overcoming fear of wicked witches and finding faith on a yellow brick road — all to go home.
I was going to mention chickens coming home to roost and cows in India knowing their way home, even after a long day of wandering the streets unimpeded and unsupervised. Then I was going to describe the contradictions of "home": When there is little out of the ordinary going on, it is "nothing to write home about," and yet, when something is written or said that is precise and hurtful, the author or antagonist has "hit" or "struck" home. I was going to point out how "home" is really not a location but an idea, where the people you consider family reside.
We all shared a yellow brick road of opportunity to learn and grow and make a good life. To be sure it was no utopia.
I was going to discuss growing up in a small college town in the U.S., as part of a small, tightly knit, Indian community heavily outnumbered by white people. Nothing ever happened in Chapel Hill, N.C. when I was a child, except during March Madness, when college basketball rivalries on Tobacco Road were the subject of many a shrill argument. There was comfort in my hometown's predictability. Whatever was going on in the rest of the state or in the nation, Chapel Hill remained trapped in a bubble of timelessness.
I was going to describe how, as a child, I marveled at the ethnic make up of my hometown. How, in a state that was represented by the iconic bigotry of the late Sen. Jesse Helms, my classmates and teachers represented the entire planet: men and women and children of different skin color, different native languages, different faiths. We all shared a yellow brick road of opportunity to learn and grow and make a good life. To be sure it was no utopia. Segregation had ended, but few believed me when I said I was a North Carolina native, and many thought my Southern accent was an attempt to mock them. There were those who told me to "go on back home to where you came from", and there were those who welcomed me to the United States and complimented me on my flawless English, and how well I spoke for a foreigner. Still, there was hope that one day people could be convinced that I belonged as much as they did; that home was in Chapel Hill and in NC, and in the big USA.
I was preparing to mention all of these things until I learned about the murder of three Muslim students close to the UNC campus.
Nearly five years ago, agents from the Georgia Bureau of Investigation showed up in bulletproof vests and raided my suburban house at gunpoint.
I was born at the campus hospital, a few miles from where Deah Barakat and his wife Yusor were to live — and to die — forty-eight years later. A large graduate student population resides at the condominium complex in the quiet neighborhood where Deah, Yusor, and Yusor's sister, Razan, were shot in the head, execution style, purportedly over a parking dispute. As a former crime reporter, I have witnessed senseless tragedies and incidents where lives have been lost because of misunderstandings and anger. But the deaths of these three strangers make me feel as if I have lost my innocence, and the comfort it brought me through other dark times, when the sanctity of my own household was violated.
Chapel Hill is not the only home I have lost in America. After graduating from UNC nearly 27 years ago, with degrees in English and journalism, I moved away, sad to leave the familiar but also excited to see the world. Before and after graduate schools, I worked as a newspaper reporter for several years, in North Carolina, Florida, Georgia, Hawaii and Illinois. When I eventually left the newsroom to start a family, that family laid its roots in Atlanta. We enjoyed the community we built around our longtime and new friends who had settled near us, raised our children together, carpooled to soccer tournaments and pitched in at volunteer activities—made a full life.
And then, five years ago, agents from the Georgia Bureau of Investigation showed up in bulletproof vests and raided my suburban house at gunpoint. They seized our passports, our computers, and in the course of confiscating other items, broke my daughter's art project for school. For the first time in my life I was afraid to be at home alone. My husband's former employer used the state attorney general's office to criminalize office politics and accused my husband of malfeasance. A chain of poor behavior on the university's part led to my husband's arrest and dismissal from his job as a college professor and eventually, one week before the statute of limitations was set to expire, criminal indictment.
Our losses are intangible: our hopes, our wishes, our desire to belong.
Our attorneys were told that if we did not cooperate, our house would be seized and our assets frozen. We no longer felt safe. We no longer felt welcomed or accepted at our second home, and made the difficult decision to leave Atlanta, our city then of nearly 17 years, leaving behind our family and friends who had stood by us.
Whatever the outcome of our legal struggles, our family knows that we will never again be able to "go home." Our losses are more than the materials used to construct our house. Our losses are intangible: our hopes, our wishes, our desire to belong. Our bubble was burst for us; our children's childhoods were cut short by years. In effect, it is not so different from what was lost recently in Chapel Hill. The Chapel Hill of my youth is gone, as is the Atlanta of my children's memories. Our homes are lost to us.
I write today not as a reporter, but as a poet, a photographer, an artist, a writer of fiction and creative nonfiction. I write as my family's chief chef, cheerleader and chauffeur. I write today as a person in exile in my own country. Unlike The Wizard of Oz, there is no yellow brick road showing me the way back home.
Home is a memory; a feeling of belonging that eludes my family. Home is a rerun of a film that no longer provides comfort — just a reminder that unlike movies, the yellow brick road doesn't always lead to a happy ending.
I'm grateful, in a way, because I've learned to live in the present. I've learned to appreciate the friends and family who have rallied by me, to speak out for the injustices that I see, not just in my husband's case, but for others—for strangers. And so, the journey continues. But this time, there is no Kansas to go back to.
On Sunday, November 17, 2013, The New York Times published an article about my husband Dr. Joy Laskar, a former professor of electrical engineering at the Georgia Institute of Technology and the way in which our lives were upended four years ago when a perfect storm of office politics and money and a dispute over his invention, first erupted. Below is my essay of the day it all began 66 months ago. (This essay was originally published on Medium).
Collateral by Devi S. Laskar
Not quite nine o'clock in the morning: the special agent from the Georgia Bureau of Investigation with blue eyes and a wisp of a mustache is pointing his rifle at me, the sidewalk already sizzling from the sun, the smell of green grass poaching in the air, men with blue uniforms, guns and bullet­proof vests in the front yard and milling about the open front‐door, some women in the neighborhood standing at the tops of their driveways, glistening in tennis whites, and laughing as if they were watching a reality show; one agent's cell phone ringing unanswered, and another agent with big hands searching my body and my car, ostensibly for weapons, while others readied themselves to finish raiding my house; the female agent in charge offering to let me stay and watch as they searched and then seized our belongings, but only if I agreed to be placed in handcuffs; a television news crew armed with cameras and a satellite dish squatting on the sidewalk.
Thinking first that my husband had died.
Thinking second that my old life, everything up to that very minute, was gone forever, and that whatever happened from that moment forward was part of a new life that bore no resemblance to my former life in any way except that I was still in it.
For several months prior, the climate at the Georgia Institute of Technology had been darkening as colleagues had been treating him with a sort of rudeness and callousness that surprised us both; and I had been encouraging him to leave for another institution. He had a few offers, in the Midwest. But in the end he didn't want to go. He liked the university that he'd been a part of since 1995, although inexperienced men replaced the seasoned management who had originally hired him. Men who we'd known for years and who did nothing to hide their envy of my husband's successes that included graduating 41 PhDs, teaching full time, founding four start­up companies, and bringing in more than $70 million in research funding. Men whose behavior ranged from disrespectful to bizarre – my husband I were academic brats, our whole lives had been steeped in our parents' academia – and we were increasingly alarmed. But still he wanted to ride it out.
That Monday morning, my husband is called into a meeting, supposedly, to get the results of an internal audit to explain some cost overruns and accounting changes. It's the same Monday investment bankers on the West Coast are to auction Sayana Wireless, my husband's university incubated start‐up, to a Fortune 500 company. All the hard work and long hours and time spent on the road were about to pay off, and the university, a minority owner, would benefit financially as well. Monday morning and my husband goes to work, and I drop off our children at school, and stop at the store for groceries. As I chat with the cashier in the checkout lane, our houseguest, a medical student who is living in our basement, calls to say something is wrong, and that I need to come home.
I had been a reporter many years before, and had covered some crime stories, especially when I lived and worked in South Florida, Hawaii and Illinois. I had witnessed raids like this before. Usually these events were precipitated by at least one of the following conditions: money, drugs, guns, and women. I knew I didn't have any money in the house more than what was in the kids' piggy banks, and nothing stronger than Albuterol for my daughter's asthma. No firearms. There were young women in the house, our daughters; one in middle school, and two in elementary school – but no circumstances nor set of conditions that would warrant the state police showing up. The deadliest object in the house was the fire extinguisher we kept in the garage, to be used in case of an emergency.
I had been out of the newsroom for more than a decade when the Kevlar clad police appeared in my driveway. I wasn't sure how I was going to react, but I was grateful that our children weren't at home. I wasn't sure until the agent points his gun at me. Something inside me clicks, and I realize that my reporter skills are all I have to get an answer to why this raid is taking place. I neither cry nor scream nor demand an explanation because that's what the appearance of a large group of agents and their big trucks usually elicits, tears and a declaration. I remember what my editor said to me once: "If you ever want an answer, you have to be willing to out-wait the other person." So, I simply remain silent, and watch everything these agents do.
Some of them readjust their vests, and some of them walk the perimeter of my front lawn. Some of them speak loudly to one another because I had opened the garage door remotely when I pulled into the driveway, out of habit. I simply pressed the button and the garage door opened and an agent standing on the sidewalk raises his weapon and points it at me. Another agent comes towards my car and tells his colleague to lower his weapon and orders me to exit the car.
Their searches of my body and the car are not gentle, and their tone is impolite. The female agent in charge presents me with the search and seizure warrants, and asks me time and again where my husband is. I don't answer her the first few times, and finally say, "He's at work. But you know that." She then makes a big show of saying she is looking for anything related to Sayana and CMP. CMP is an acronym that refers to a French company that the start­up worked with, but it wasn't my job to educate her, so I remain silent. I listen to her repeatedly ask me, "What do you know about CMP?" There are groceries in the trunk of my car, but the agent won't let me enter my kitchen to put the frozen toaster strudel in the fridge.
Rather than remain at the house in handcuffs, I opt to leave the female agent my telephone number so she can call me when she's done, and then I drive away. I remember that it's the Monday my occasional housekeeper is supposed to come over, and I call her to tell her my house is under siege. The medical student calls to tell me that she is on her way to class, that she was offered the "handcuffs" option and she too opted out. I go to a coffee shop nearby and call my family friend who is an attorney and wait for him to drive down from South Carolina. I try to call my husband but his cell goes to voicemail.
I am summoned. Just before lunchtime. My husband not dead but being detained by GBI agents, the news of purported crimes crashing the airwaves on television and the radio; an agent whose face I can no longer recall opening my front door for me. Like a waiter ushering in a patron at a restaurant, he motions for me to come in to my own house; after I enter I see a couple of uniformed police boxing up some papers, and another agent photographing the living room as if it were going to be showcased for a magazine; I hear agents upstairs talking and chuckling and one of them say, "uh­‐oh," after something crashes from the direction of our youngest daughter's room. The woman boxing the papers in this couple stops and laughs nervously, picks up a stack of papers and hands me the illegible pink copies of search and seizure inventory. She asks me to sign them, defending herself with an impassive "I'm sorry" when I began questioning her about opening my mail, and taking my things.
Later, my husband comes home and we learn that among the many things they took our passports and computers have been seized. I remember not answering the door and pushing my husband away from the windows when another news crew rings the bell and takes moving pictures of the reporter standing in front of the girls' patriotic art taped on the front glass. I remember measuring my words like cloth before the girls enter the house after school to see the debris that was once our family life after the agents' tornado‐like search.
Just before falling into a brief ugly sleep, I watch him and three of his staff from the university being accused of "malfeasance" and "misappropriating funds" on the late evening news, their smiling faces frozen on our television screen.
The people inside the university who instigated the raid, the subsequent and ongoing "dog and pony" show with the media, his arrest (without indictment) on state racketeering charges, the quasi legal hearing inside the university and his eventual dismissal in 2011, knew all about Sayana Wireless and my husband's work. They'd hailed him as a hero, until making him an enemy to hide their own malfeasance.
The first year or so after the police showed up on my doorstep was a whirlwind of reaction, meetings with lawyers, and days spent in civil court as his side fought the university over the suspension without pay (which is illegal), the way he was being railroaded out of the university (also illegal), the circus that was his university tenure hearing, and the revocation of his tenure. He won his back‐pay and attorney fees, he won the lawsuit about the university concealing its records and the university has since released 515,000 emails.
But even there, there are problems. They have repeatedly and to this date ignored the judge's order and failed to release the specific records we have asked for. It is not following the spirit of the law to photocopy one email six to 10 times or even 25 times rather than release an email communication that was specifically asked for. It follows the university's same pattern of arrogance that has been documented for the past three and a half years. The way he was terminated didn't follow the law, and, once again, we are seeking remedy in federal court.
The local media has played its part, too. I have been largely disappointed and dismayed by the local press, especially the television news stations – of the coverage we received and then the silence that has followed. No one in the daily news business did any real reporting, or fact checking. No one bothered until The New York Times came along. One Atlanta TV reporter's coverage was so biased that when my husband's attorney called to correct him on some misinformation that he'd aired repeatedly one weekend, his supervisors yanked the piece from the website and it hasn't been seen since.
The local media has moved on, to immigration issues, to a public school cheating scandal. So no one has bothered to do the math: the state of Georgia has spent hundreds of thousands of dollars already with their attacks upon my husband and yet nothing has really changed. There is no indictment to date, and instead, they have had to pay his salary and some attorney fees, and they have to answer our lawsuits in court.
We were silent before but no longer. (See The New York Times article about my husband.)  The initial shock has worn off and we have realized we are in this for a long fight. This is my husband's fight but it has become our fight, our families' fight, too. We endured the offhand comments, the "shunning" as many people we'd known for years in the Georgia Tech community and in our circle of acquaintances stopped speaking to us and wouldn't return our telephone calls; more strange behavior as others assumed something about the news reports had to be true and therefore we were no longer welcome. We had to sell our home and move, and leave the friends and family who had stood by us. We had to start over.
One of the lawyers recently asked my husband how I was, and made the comment that I was "collateral damage" in this prolonged fight. Not directly targeted but directly impacted just the same.
This is my new life.